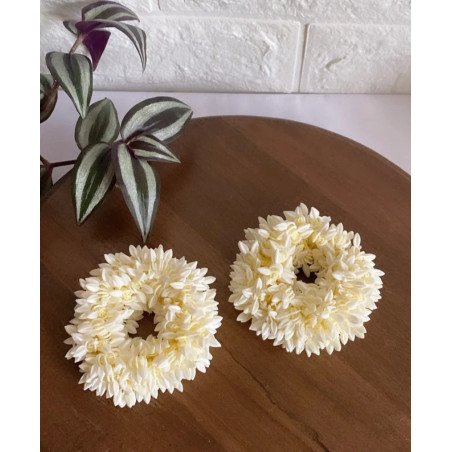  
Wedding Gajra, Scrunchie Gajra Bracelet Pack of 20 pcs
Wedding Gajra, Scrunchie Gajra Bracelet, Hand Gajra, Indian Wedding Floral Jewelry, Hair Gajra, Hair Accesories, Mogra Gajra, Elastic Gajra
Security policy
Delivery policy
Return policy
Bun Gajra Hair Accessory Made of Plastic beads- Ideal for Wedding, Festive Occasions, Parties, Karwa Chauth Hairdo, Diwali |Reusable Hair Gajra for all occasions, Gajra Veni, Jasmine String for Hairs, Indian Wedding Floral Jewelry, Hand Gajra, Hair Gajra with Rose, Hair accessories, Pithi/Mehndi/Brides Bangle, Maiyo, wedding favors in bulk
Gajra is an accessory for any woman to adorn her hairstyle in any traditional outfit - be it Lehenga or Saree!
Can be used for gifting purpose too!
Materials :
Scented Plastic beads and elastic thread
Colour :
Off White
Pack of 20 pcs.
Artificial Floral Jewelry is like a new tradition. It enlightens your occasion of Haldi, baby shower, birthday occasion, etc.
Bangle Diameter - Adjustable
These are adjustable bangles, so they can fit according to wrist size.
Best gift for Mehendi, wedding welcome, baraat function. Comes in assorted colors only. Has an adjustable ring to suit finger size.
They are worn for festivals, weddings, and sometimes even as part of regular attire.
What can this Gajra be used for?
• Indian Traditional Events
• Wedding & Parties
• Bharatnatyam/ Kuchipudi Dance Events
• Bridesmaids Hair Accessories
• Festive Occasion
• Saree Photoshoot
• Karwa Chauth
• Perfect gift for mother, sister, aunt or friends!
Want More?
These hair accessories are only available in the mentioned quantity at the moment. If you'd like to order more, please message us directly and we will be able to organize more stocks for you.