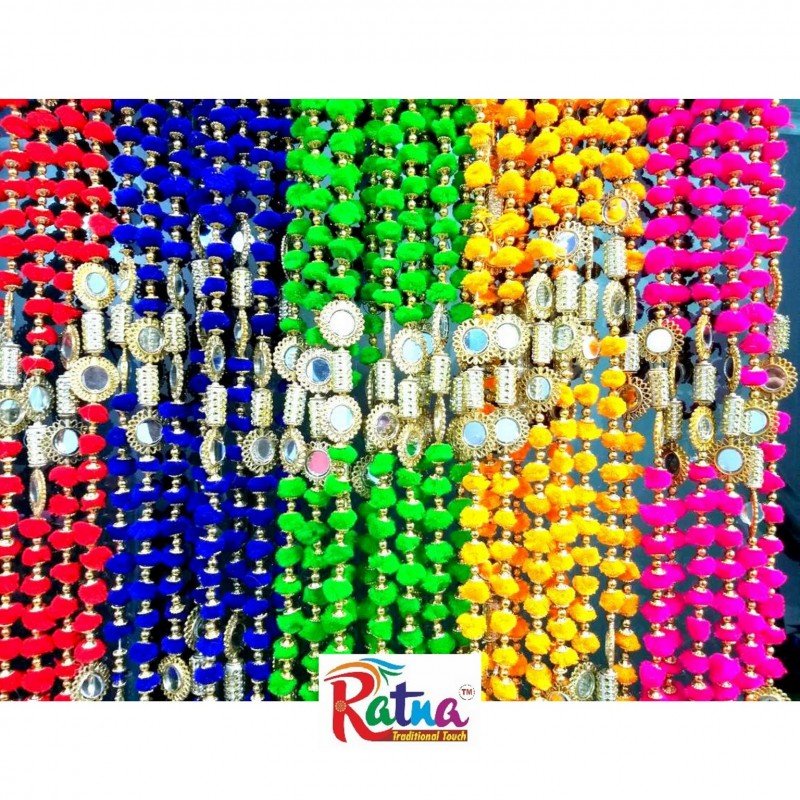  
Indian Woolen Pom Pom Colorful Marigold Flower Decoration Garlands
Indian Woolen Pom Pom Colorful Marigold Flower decoration Garland Home Decor Heena Decor Mehendi Wedding Party Decor Photo Backdrop Door Total Pack of 70 Garlands. 10 each in Blue, Yellow, Orange, Red, Pink, Green and Rainbow
Security policy
Delivery policy
Return policy
LUSH DECORATIVE POM POMS - Our beaded Multi Color Rainbow felt ball pom pom garland comes in a rich shade of multicolor, hot pink, hot orange, yellow, green, blue and red with nice mirrors and beads in between. Its gold beads and accents lend it a lavish look. Each string is 5ft long. 

EXCELLENT CRAFTSMANSHIP - Nothing compares to a decorative garland that is handmade. Heart and skills are poured into every item. You can count on it to have superior quality and durability.

PERFECT FOR FESTIVE EVENTS - These hanging pom pom decorations are perfect for Indian festivities, such as weddings and the Diwali. They're also great for any party that has a Bohemian theme.

DREAMY BOHEMIAN DECORS - Everyone loves our pom pom string felt ball garland. It is the perfect addition to your dorm room or your bohemian wall decor. The wall hanging garland can be used in your playroom hanging on the wall or on a kids tent as an exclusive accent piece. These garlands are also a great addition to your Bohemian interiors. It complements Boho decors beautifully.

TRADITIONAL DECOR - Choose a wall decoration that gives your space the Indian backdrop you crave. It's great for both your place of work and your home. These garlands will be the perfect accent for your Diwali Decor or as an essential Pooja decor item.