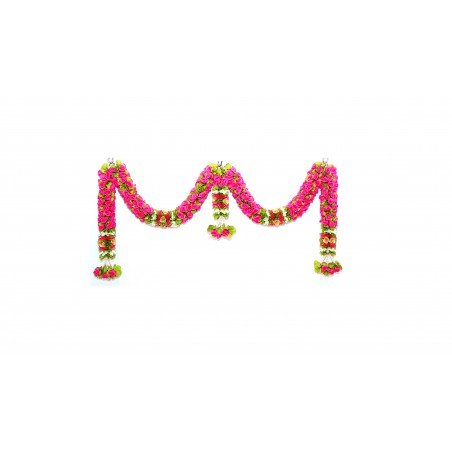  
3 feet wide Rose fabric flower door valance Indian Toran Indian wedding decoration Artificial flower door hanging home decor
3 feet wide Rose Flower Door valance Indian Toran Indian wedding decoration Artificial flower door hanging home decor
Security policy
Delivery policy
Return policy
Artificial Flower Shaded orange and pink flowers with jasmine 4 feet Toran. Bohemian Indian wedding decorations or home decor. Traditional Indian door hanger or toran. It can be used as boho decor for weddings or parties or for normal home decor. Use this toran to gift for new house, housewarming, mother's day gift, birthday gift, Diwali home decoration, anniversary gift, new house anniversary gift, etc.
Free process and dispatching for eligible orders, ready to ship, express shipping available with in 2-5 days of shipping please contact.
Dimension:
width: 36"
height: 12" from the Top.
Torans look beautiful on door entrance, walls and windows of rooms, living room or outdoor. It is widely used in Indian houses to decorate their doors and walls. It can be used to gift to your loved ones. It is believed to bring good luck inside the house. 
Torans or bandanwaars are used to decorate the main entrance of the home. The main idea behind decorating the homes is to please and attract the goddess of wealth Lakshmiji. So the decoration of the entrance of the place which is called dwaar is also important in this regard. The beautiful doorhangings that are also known as bandanwaars and torans have special significance as the decoration accessories. These torans are the first thing that welcomes your guests as they step at your place. These torans not only enhance the charm of the main entrance of your home but also give a friendly welcome. You can decorate your sweet homes forever with these stunning exclusive torans.
Utmost care has been taken in taking pictures to show the real colors of the item even then a slight difference in color may be there due to difference in monitor resolution.
Please feel free to ask us any question about product, policies or procedure. We will be happy to answer you.
****We ship the items with in 1-3 business days.******